Saturday 11th October (5:30PM)
(This write-up is a bit late: I've been ill and we've recently had a death in the family.)
This year was the biggest ever PyCon UK conference - a community organised event for users of the Python programming language. Just under 500 tickets were booked including 45 for teachers and 75 for kids. We couldn't have done it without the support of the sponsors, especially Bank of America, the Python Software Foundation and Raspberry Pi Foundation without whom the education track would not have been possible.
For me, the person responsible for the education track, I had most fun working with the teachers and kids who turned up. I also seemed to be giving far too many presentations (four in total during PyCon UK). I also realised, due to circumstances beyond my control, that I have many kind and generous friends in the Python community and that when disaster strikes people step up and make "stuff" happen even at 4 o'clock in the morning!
It was a privilege to watch several masters at work during the education track:
The education team from the RaspberryPi Foundation are insane, inspiring and intelligent in equal measure - if you can attend one of their free Picademy events for teachers than you're in for a real treat. It's easy to sound bombastic about the work of the Raspberry Pi Foundation (so allow me to demonstrate): the pedagogical forces that they unleash are both unique (because who'd have thought such a small, cheap and "raw" piece of kit would result in such a huge amount of interest) and important (because the Raspberry Pi liberates computing education from the boring sad little world of locked down RM boxes, presentations and spreadsheets). That they are a UK based effort makes it all the more important that we, the UK's Python community, give them as much of our support as possible.
It was also wonderful to see Martin O'Hanlon work his Minecraft magic on both teachers and students. Martin introduces Python programming via only a handful of very simple Minecraft related concepts that he uses to build some amazing things within the Minecraft world (his in-game house that follows you around was a big hit with the kids). He's so good at this sort of thing that he's written a book on this very subject (that's bound to be a big hit with young programmers and teachers alike - what an inspiring textbook that would be). In case you can't wait for its publication you can grab his PyCon UK resources here.
(Here's a photo of Martin and fellow author Carrie Anne looking like the cartoon versions of themselves used in their books.)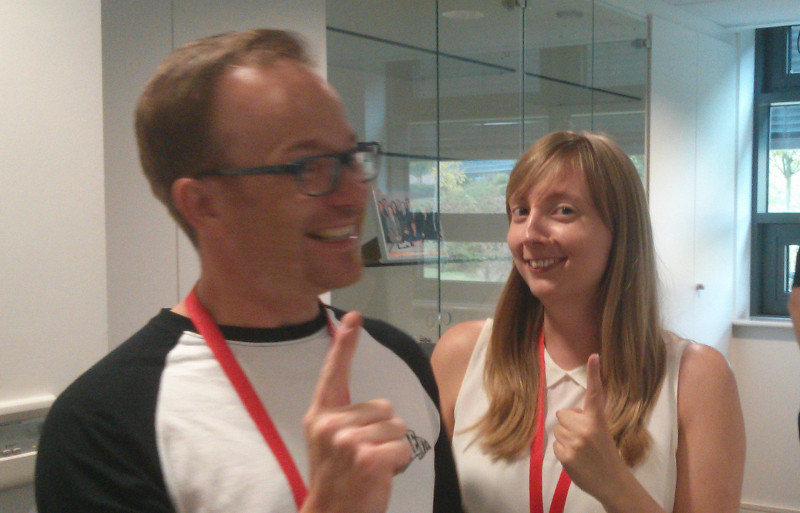 I was especially pleased to welcome John Pinkney and his NAO robots. I met John at a CAS hub meeting over the summer where he described how he uses robots as a catalyst for all sorts of interesting educational activities. The visual programming tool used to interact with the robots strikes me as particularly child-friendly. Interestingly the code behind the visual building blocks used to describe the robot's behaviour is all written in Python (and thus handily gave me an excuse to invite John to PyCon UK). John gave two workshops (one for teachers, the other for kids) and the fact that he managed to keep both groups in rapt awe for an hour is testament to both his skill as a teacher and the "charisma" of the robots. We also ran a robot code dojo at which we let the developers play with the bots. I gave a quick overview of the Python API to the assembled developers and my slides can be found here.
Dave Ames also deserves a special mention for leading a couple of excellent workshops on using the PyGame project. Dave's workshops involved taking an existing (yet broken / unfinished) game and modifying the code to fix things and make it your own. I really like this approach since it gives students an existing base to work from. It also makes sure that beginner coders begin the think about debugging their own and other people's code (for which we provided all attendees with a PyCon UK Debug Duck. This rather excellent state of affairs is wonderfully encapsulated in the following video from the kids' day:
Alan O'Donohoe, Ben Smith and Vikki Dodd are three teachers without which the education track would not function. Alan's pragmatic encouragement when disaster struck (twice) was invaluable and Ben and Vikki made innumerable contributions throughout the event that meant I was regularly thinking, "Oh wow, [Ben/Vikki] has already done that." That's what I mean when I say that people "step up".
It was an immense privilege and a lot of fun to work with Naomi Ceder (founder of the PyCon US Education Summit) on our own small contribution to the education track: introducing object oriented programming to teachers through the medium of cows. I especially enjoyed the tag wrestling modus operandi of our talk. I'll leave you to guess which one of us was Big Daddy or Giant Haystacks (a UK specific cultural reference I'm sure Naomi will be delighted to quickly forget). In any case, both teachers and developers got stuck into our Parrot related exercise (as the picture below shows):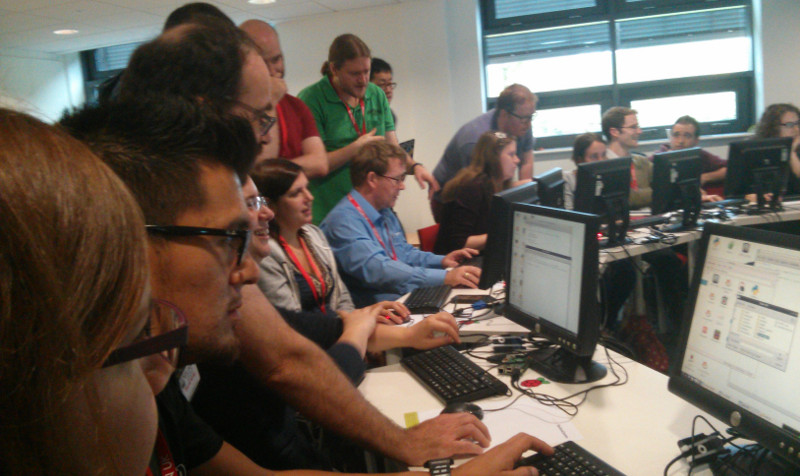 Finally, Carrie Anne gave a stonking keynote address to the whole conference on Sunday afternoon. I've heard far too many boring-yet-worthy-important-people-talking-about-boring-yet-worthy-important-things as conference keynotes in my time. Happily it soon became apparent that Carrie Anne's keynote was definitely not a boring-yet-worthy talk about matters of an educational nature. If you want to actually know what Carrie Anne said you should invite her to your conference to give the keynote. It would be definitely worth it: evidence via social networks suggests hers was the warmest received and most highly regarded keynote of this year's conference.
Other wonderful aspects of this year's PyCon UK included the beer for the conference meal (brewed using Python), the charity cheese shop that raised several hundred pounds for a local children's hospice and the inevitable silliness during the lightning talks.
Finally, it was a pleasure to catch up with Van Lindberg (chair of the Python Software Foundation). I'll leave what we discussed for a separate blog post but, in the meantime, you should all totally sign up to be members of the PSF here. Why? Because,
The mission of the Python Software Foundation is to promote, protect, and advance the Python programming language, and to support and facilitate the growth of a diverse and international community of Python programmers.
We've already started planning next year's conference. If you can think of any ways in which we can make it better please don't hesitate to get in touch.
---
Saturday 21st June (02:00PM)
I write software. I use a programming language called Python. As well as being very easy to learn and fun to use Python is an amazingly powerful language that's used by thousands of organisations the world over - from the likes of Google, Bank of America / Merrill Lynch, and NASA to small start-ups and scrappy little websites such as this one. Every day, you inadvertently encounter thousands of digital creations made with Python. By any measure of technical success Python, it seems, is a triumph.
For all Python's technical prestige, I believe the most important aspect of Python is the community that has evolved around the language. Perhaps Guido's desire for computer programming for everyone set the seeds for the growth of such a community. Of course, the development of Python is an entirely voluntary affair and inevitably attracts the sort of person who likely wants to contribute to the wider public good. Maybe it's because the Python Software Foundation (the charitable organisation that promotes Python and coordinates its development) is not just sympathetic to but proactive in encouraging engagement in Python programming no matter your background and especially if you belong to an underrepresented group of nascent programmers.
Happily, the UK's Python community are a diverse bunch who maintain a reputation as a friendly, welcoming and dynamic group. Every year we meet for our community organised PyconUK conference. We come together in a way that reflects the widely held view that diversity and friendliness are strengths of our community to be celebrated and fostered (to paraphrase PyconUK's statement on diversity and conduct).
For the past three years we have welcomed colleagues who are teachers of Python in UK schools. For the past two years we have put on a special education track to promote programmer / teacher collaboration and mutual learning. Last year we ran a kids' day where the proto-programmers of tomorrow explored Python with the technologists of today. The following videos give you a flavour of what we got up to:
We are delighted to be running an education track at this year's PyconUK (to be held on 19th-22nd September in Coventry).
The philosophy of the education track is simple: wonderful things happen when diverse groups of people come together to learn about and explore empowering technology such as Python.
If you are a teacher, parent, programmer or young person interested in exploring technology then the education track has something for you. We have secured some very generous support for teachers, parents and young people to attend at little or no cost. Kudos to Bank of America, The Python Software Foundation, Hewlett Packard, The Raspberry Pi Foundation and our very own PyconUK Society for their extraordinarily abundant support.
Full details can be found here:
Book now because places are limited!
---
Saturday 24th May (11:30AM)
This is a second blog post resulting from emails about music exchanged with my buddy Francis (the first one can be found here). I also felt compelled to write because of this recent fragment of conversation on Twitter with another collaborator and buddy, Dr. Laura-Jane Smith, concerning how one measures the efficacy or effect of an artistic encounter.
What follows are personal reflections. Please take them with a large pinch of salt. I'm merely creating a context in which you may think about music.
The video (by FinallyStudio) claims there are lots of ways to understand music because there are lots of aspects of music to consider (and you don't have to know about any of them to enjoy music). The evidence for this argument is all around us: people with no musical training enjoy music all the time. Be it listening to the radio, singing in the shower or picking out melodies on a self-taught instrument, music is somehow an innate part of the human experience, no matter your level of education.
Both Francis's emails and Laura-Jane's question about positivism struck me as overtly intellectual in outlook: there had to be some thing to be identified, processed and (in LJ's case) measured and interpreted. As Francis explained,
I think I'm *so bad* at this particular music, I'm just not noticing any patterns. My instinctive feeling is it is just a whiney, drifty noise.
In these two sentences Francis identifies the nub of the matter (and the title of this post): the experience of music.
How does music feel? What are the sensations that music arouses in you? What do you think when you encounter music?
When reading this post I want you to wonder about your raw, intuitive or instinctive reactions to music rather than any higher order thinking about music.
Why?
I believe there is a danger to over-think music.
As far as I can tell, there's no need to identify patterns to appreciate music that is otherwise unenjoyable. Perhaps the composer wanted to create whiney, drifty noise. Even if this is not the case, who's to say Francis's reaction is wrong? I find plenty of well loved music hard to enjoy (or even to listen to).
In the context of health, MRI scanners can't measure qualia to provide evidence of music's efficacy or influence. Surely, enjoyment of the sensation is evidence enough? (After all, from a utilitarian perspective, the net sum of "happiness" in the world grows because of music.) Nevertheless, I'm reminded of an episode of the BBC programme Imagine from 2008 where Alan Yentob subjected himself to an MRI scan while listening to music. Upon hearing Jessye Norman perform one of Strauss's Four Last Songs - music to which he acknowledged he had a special emotional attachment - his brain was suffused with blood. As one reviewer put it,
He listened to her and his mind blushed.
While the MRI scanner allowed viewers to watch Yentob's apparent physical reaction to Norman's performance it didn't give us a sense of Yentob's obvious emotional reaction (obvious because he talks about how the music makes him feel).
Furthermore, each of us has a different, very personal reaction to music. What may seem like a heavenly performance to one person is a turgid noise to another. The infant school recorder ensemble may bring tears to the eyes for very different reasons, depending on who is listening. Some people love to play certain pieces while others can't stand the thought of another damn performance.
Because of these reasons, attempting to pin down the experience of "music" feels like an impossible task.
Even generalisations don't work. For example, we may assert that music is just a particular sort of sound; but then we'd need to explain Beethoven's composition technique. His deafness forced him to compose his later works solely in his head - no actual sound was involved in the process despite it being fundamentally musical.
In fact, some musicians disagree with the sentiment that music is in some way a sub-set of sound. Take the renegade American composer Charles Ives who famously asked,
What has sound got to do with music!?
Ives believed that music is in some way the underlying "spirit" of the composer and (especially) the performer expressed through sound rather than the sound itself. An alternative way to answer his question is to claim that music is the feeling you get from sounds rather than the sounds themselves.
In some sense, it is rewarding to "understand" music and know what's going on. Discovering, interpreting and describing the conceptual world of music is an interesting, enhancing and intensifying experience. But there is a danger that we become distracted by such intellectual diversions in a similar way that one might become fixated by the form of a Sonnet while missing its meaning:
Silent Noon Your hands lie open in the long fresh grass, -- The finger-points look through like rosy blooms: Your eyes smile peace. The pasture gleams and glooms 'Neath billowing skies that scatter and amass. All round our nest, far as the eye can pass, Are golden kingcup-fields with silver edge Where the cow-parsley skirts the hawthorn-hedge. 'Tis visible silence, still as the hour-glass. Deep in the sun-searched growths the dragon-fly Hangs like a blue thread loosened from the sky: -- So this wing'd hour is dropt to us from above. Oh! clasp we to our hearts, for deathless dower, This close-companioned inarticulate hour When twofold silence was the song of love. ~ Christina Rossetti
Rosetti's poem was beautifully set to music by Ralph Vaughan-Williams (my wife and I enjoy playing it together ~ me on piano, Mary on 'cello). Listen to the recording below; sit back, let the music and words wash over you.
I challenge you to be unmoved.